Dog Friendly Holiday Cottages - North Norfolk
Dogs love the sandy beaches that stretch off into the distance, marshlands, pine woods & countryside walks. Dog friendly cottages in North Norfolk, with garden, near beaches that allow dogs, woodland and coastal walks, and a splash in the sea!
Use Availability Search To See Cottages That Allow Dogs
We have a selection of lovely holiday cottages that are dog friendly, most with enclosed gardens and near dog friendly pubs and places to visit:-
Stiffkey
Bella's Cottage (Sleeps 3) - 1 dog Honey Barrel Cottage (Sleeps 4) - 2 dogs
Barney East Rudham Burnham Thorpe
Harvey Cottage (Sleeps 4) - 2 dogs April Cottage (sleeps 4) - 1 small dog Rose Cottage (Sleeps 4) - 2 small dogs
Wells-next-the-Sea Weybourne Salthouse
Bakers Yard (Sleeps 5) - 2 dogs Hammond Cottage (Sleeps 5) - 2 dogs Cley Corner Cottage (Sleeps 4) - 1 dog
Blakeney West Beckham, Nr Holt
Burnham A (Sleeps 2) - 2 dogs Garden Cottage (Sleeps 2) - 2 small dogs Work Shop (Sleeps 8) - 2 dogs
Burnham B (Sleeps 4) - 2 dogs Bolt Hole (Sleeps 4) - 2 small dogs Long Barn (Sleeps 14) - 2 dogs
The Brancaster (Sleeps 4) - 2 dogs Chaff House (Sleeps 6) - 2 dogs
The Cley (Sleeps 6) - 2 dogs Riding Stable (Sleeps 6) - 2 dogs
The Kelling (Sleeps 6) - 2 dogs Wash House (Sleeps 6) - 2 dogs
North Norfolk Beaches That Allow Dogs
Many of the beaches are pet and dog friendly, certainly nearby Wells and Holkham beaches offer fantastic freedom for dogs their huge expanse never ceases to fill dogs with the joy of running free in such a large space, plenty of seagulls to chase and a swim in the sea.
Wells and Holkham beaches have lovely pine woodlands, ideal for dog walks, the sun filters through the pine trees the ground is sandy, and these pine woods can be quite magical at times.
Walk from Stiffkey towards Morston and Blakeney Point along the coastal path, in the evening sun, inlets with moored boats, flowering gorse, Stiffkey Fen with it's reed beds and the backdrop of the sea.
If you are on the Beach then find a sand dune base, set up camp, and settle down for some sunbathing with your dog, who can enjoy being with you on the beach.
North Norfolk is very much about dog lovers, most pubs are dog friendly, and allowed inside most bars as well as sitting outside.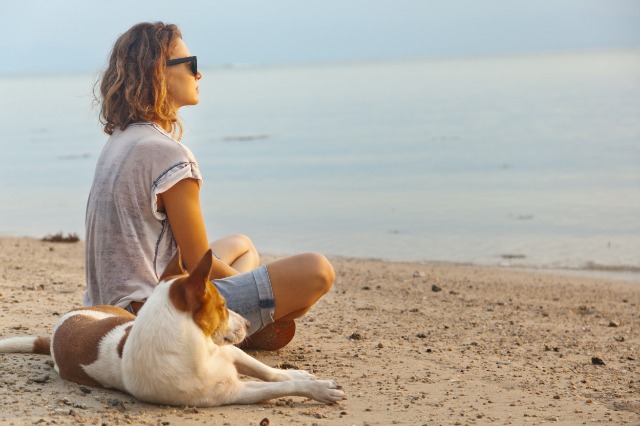 There are also fantastic walks on Salthouse and Cley Heath
There is an area of high ground above Salthouse which offers lovely walking often with elevated views out to sea , the Salthouse Heath offers plenty of room for your dog to run free in this extensive open heath and the surrounding woodlands.
David Handley our Business Manager enjoying a run on the heath.